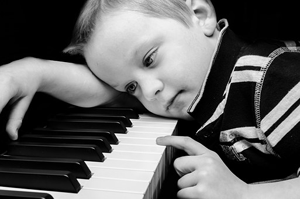 Who do you think is going to learn more?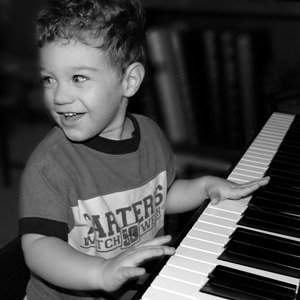 Have you ever wondered what's the best way to go about learning to play the piano? Maybe you already play and haven't really come across the things you want to learn.
My name is Charley Wyser, and I have been playing piano for 40 years (35 years as a Professional Jazz Pianist) and teaching piano full time for 28 years. During this time, I have taught thousands to play through private piano lessons and group seminars and workshops.

Over all of these years, through lots of hard work, studying, and practicing, I have acquired a vast wealth of information that I would like to share with you.
The funny part about this is the longer I have been playing, the less I feel I know.
This just goes to show you that playing piano and learning music is a life-long venture.
So, you may as well relax and have fun with it.
How To Sound Good Learning Piano From The Start is a 4 week online piano lesson course that has been created to teach you credible material that is fun, interesting, and easy to learn!
"This course is geared for anyone from the absolute beginner, to those who would consider themselves at the early-intermediate level."
Here are the highlights of the course:
| | |
| --- | --- |
| | - This is an online course that is taught over 4 weeks |
| | - There are 30 videos to make learning everything fun and easy |
| | - You can watch the videos online or download them to your computer |
| | - You can practice your online lessons at your convenience and go at your own speed anytime 24 hours a day/7 days a week |
| | - You will be getting legitimate information presented logically and sequentially |
In "How To Sound Good Learning Piano From The Start", you will learn:
| | |
| --- | --- |
| | - Easy method for learning and remembering the notes |
| | - How to form a Major scale and number the tones |
| | - How to play songs using scale-tone numbers |
| | - How to play Pentatonic scales and the Blues scale |
| | - Beginning Improvisation |
| | - How to play a blues progression |
| | - How to play bass lines with your left hand |
| | - How to use different rhythms to play different styles of music |
| | - Easy techniques for coordinating your left and right hands |
| | - And much more |
"You will be learning legitimate information presented to you in a logical and sequential order!"
"This way, everything makes sense, and you avoid confusion."
Here's a sample breakdown of the weeks.
| | |
| --- | --- |
| Week 1 | Shortcuts for finding notes on piano, how to play a Major scale, numbering tones on the Major scale, creating songs from scale-tone numbers, how Major, minor, and diminished chords move in a key, 3 very popular chord progressions, how to apply chord progressions to a song. |
| Week 2 | How to coordinate your left and right hands, how to play the Blues, how to play a bass line in your left hand and combine with chords in your right hand, how to combine melodies in your right hand with bass lines in your left hand, creating different types of bass lines. |
| Week 3 | Pentatonic scales (Major and minor), how to play a blues scale, using the root to 5th bass line, basic improvisation using the pentatonic and blues scales. |
| Week 4 | Putting it all together by practicing over different chord progressions, improvising over original songs and different types of music, and an introduction to learning to write your own songs. |
How much is your investment in the How To Sound Good Learning Piano From The Start online course?
There is a lot of material covered in the videos in this online course. If you were to take private lessons with me and study what is in this program, you would spend several hundred dollars with me over a period of a few months.
Fortunately, since everything is condensed into a 4 week program, you will only be investing a small fraction of this amount.
Your investment in the "How To Sound Good Learning Piano From The Start" program is only $85.00.
This is a one-time only investment for lifetime access that includes both watching all the videos online and/or downloading them to your computer, or adding them to your dropbox.
Just click below, to get started right away!
"Everything is finally going to make sense to you because it's presented in a logical order."
"You will be able to take your time and work your way through the material at your own pace anytime (7 days/week, 24 hours/day)"
I have given you reasons for moving yourself to the next level in your playing. All you have to do is click on the button below to get started right away.
Once you start learning this material, I believe you will be eager to start showing others what you will now be capable of playing.
Let's go ahead and have some fun!
I am looking forward to helping you with your piano adventures.
All the best,

Charley Wyser
P.S. When you enroll in my new course, you will learn from 30 videos seperated throughout weekly folders so you can monitor your progress every step of the way!